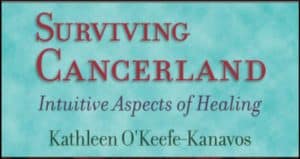 Guest for Your Show
Surviving Cancerland: Intuitive Aspects of Healing
By Kathleen O'Keefe-Kanavos
 Everyone Dreams. Some Dreams Save Lives.
During a time of Massive Healthcare Reform and Worldwide Crisis The Need for Inner and Divine-guidance through Dreams is Greater Than Ever Before.
3-Time Breast Cancer Survivor and Multi-award-winning and Bestselling Author Kathleen (Kat) O'Keefe-Kanavos shares how Dreams Guide and Save Lives.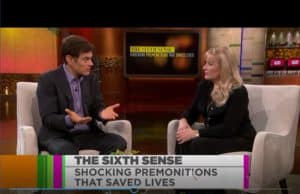 As seen on The Dr. Oz Show The Sixth Sense: Shocking Premonitions:
http://kathleenokeefekanavos.com/dr-oz-show-teaser/
In light of recent healthcare upheaval and worldwide crisis the need for Bestselling author Kathleen (Kat)O'Keefe-Kanavos' book could not be more timely! She was recently featured on National TV and Radio on the Dr. Oz Show, George Noory's Coast to Coast, and in Chicken Soup for the Soul books. She has survived breast cancer three times by listening to her persistent intuition, and her Physician-within in Dreams.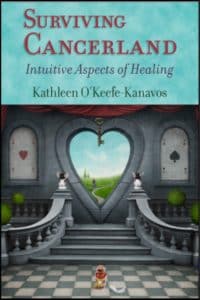 Profound and terrifying, yet humorous and uplifting, Surviving Cancerland: Intuitive Aspects of Healing explores a life-and-death battle with breast cancer diagnosed through dreams, whose power helped save the author's life via their crucial insights. Surviving Cancerland gives a spiritual twist to the compelling New York Times bestsellers Always Alice and The Shack.
In her healing process, Kat used intuition and dreams to self-advocate a course of treatment, "often against the vehement advice of my doctors."  She always worked with physicians, but never forgot to self-advocate and make the final decisions. Kat says, "Believe but validate. The truth behind your dreams will be made available to you. Watch and listen." She hopes her story can help others make better decisions in life. She uses Dreams to keep herself healthy, happy and financially secure to this day.
 She learned that science goes so far… and then comes God in Dreams.
"Kathleen's story is powerful, honest, and eye-opening. She asks readers to go a bit beyond where some might feel comfortable, but if you're willing, the reward is the story of a profound healing journey. Kathleen tells us, 'My crisis increased my intuition, which in turn saved my life.' Thank you, Kathleen. Miracles and angels are a part of our lives, so anticipate them and tune in through your quiet mind." —Dr. Bernie Siegel, M.D., author, radio host, inspirational speaker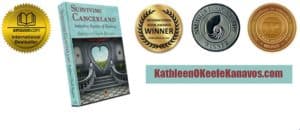 Kathleen Kanavos is an International  multi award winning  author, national inspirational speaker and intuitive life coach. She works with individuals and audiences to help them connect to their dreams and inner voice by sharing tips on how to recognize and distinguish that voice from the rest of life's noise. "Most people can't make out their inner guidance, because they're hearing that they're not smart enough, not good enough, not talented enough, not attractive enough to live the life of their dreams." These noisy fears hold people back from fulfilling their full potential in love, finances, career, and even health. We need to be able to hear and trust our inner voice. It is our best friend."
Kanavos offers these four key points:
Dreams have been a form of health and relationship communication from Inner-guidance since the time of Ancient Greece and Egypt.
Dreams can help you be successful by giving you an "inner-edge" in life and building your self-confidence.
Dreams are a means of problem solving that can lead to positive expectations when only negative outcomes were anticipated.
Success achieved through Dreams makes for a happier life.
We have the power to transform our lives. Dreams are a Key to transformation.
TAKE AWAYS FOR THE AUDIENCE:
Develop your unique, authentic inner guidance
Handle fears and turn them into fuel for life
Discover how to turn your worst nightmares into life-saving information
Learn about the 7 types of dreams and how to recognize them
Lean 7 easy steps to remember your dreams
Learn how to change the endings of your Lucid Dreams to improve your life
Make a heart-to heart connection with your guardian angel or spirit guides
Additional Sample Topics: Using Dreams for Performance and Intuitive Life Coaching; Following Your Inner-Guide; Improving Relationships, Finances, Health, and Career; Your Innate Sacred Dream Doorways; What are your dreams and Inner-guides telling you to do in your life to overcome emotional blocks for success;  Learning  your own dream language; Answers to your nightly prayers are in daily Synchronicities and Validations- the language of Angels. Do you listen?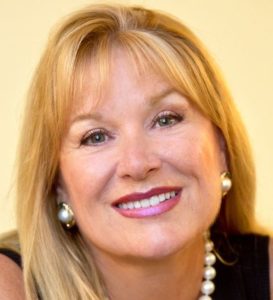 Kathleen O'Keefe-Kanavos is a Keynote speaker and presenter on the topics of Health, Healing and Prophetic Dreams. Her International Bestseller Surviving Cancerland message on dreams is lovingly weaved into the topic of her talks. She is the host of Wicked Housewives On Cape Cod™ TV and Radio and host and co-producer of New Earth International Media and The Kat Kanavos Internet TV Show to promote Healing and Dreams. She "gives back" for all her healing as an R.A. BLOCH Cancer Foundation HOTLINE phone counselor. Kat teaches Dream Classes, SEO (Search Engine Optimization) and Publicity Courses as both live events and live webinars. She is a Patheos Blogger, Internationally Syndicated Columnist for Women's Voices Magazine, and BIZANALYTICS360. To learn more about Kathleen O'Keefe-Kanavos, please visit:  www.KathleenOkeefeKanavos.com
Kat says, "Imagine a world in which your interactions with dreams make a huge difference in surviving any crisis. If you choose to learn your dream language and connect with Inner-guidance through the Sacred Dream Doorways your life could dramatically improve."
If you wish to book Kathleen O'Keefe-Kanavos as a guest on your show to share her vital message of DREAMS please contact her cell 561-301-7940 or email her @ katkan@comcast.net and type show guest in the subject line.  Visit http://survivingcancerland.com/ to download a presskit.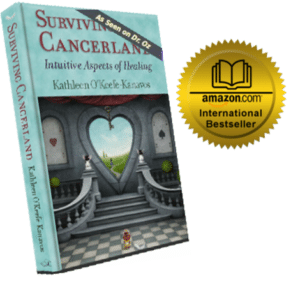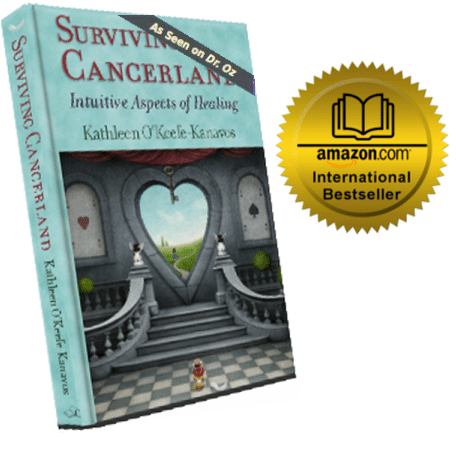 Media Contact for Kathleen O'Keefe-Kanavos:
Steve Allen Media, Publicist , Phone: 661-255-8283   Email: media@steveallen.net                                       
Mary Cate O'Malley, Communications Consultant for Kat marycate@omalleyconsulting.com